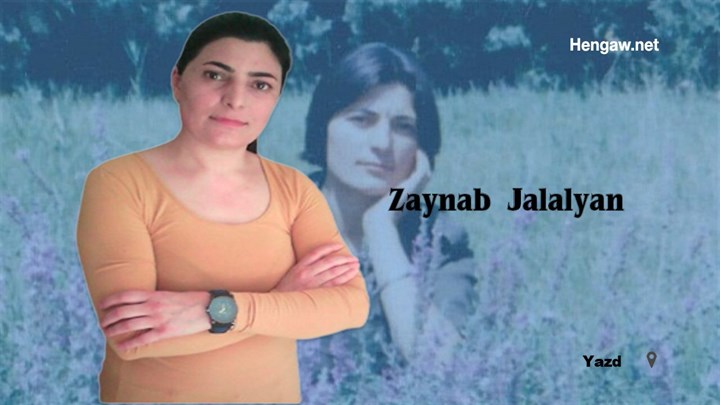 Hengaw: Monday, April 26, 2022

Zeinab Jalalian, a female political prisoner who has been in prison for the longest period of time in Kurdistan and Iran, has started her 15th year of imprisonment after being transferred to Yazd Prison and is still denied the right to leave and family visits.

A relative of Jalali's family told Hengaw: "Zeinab Jalalian has been illegally transferred from Kermanshah Central Prison to Yazd Central Prison since November, 2020, and since then, which has been 18 months, none of her family members have been able to visit her. The request of Jalalian family to meet Zeinab has been rejected many times by the security agencies, and this has led to their concern."

The source added that security forces had told Jalalian family that they could only meet Zainab if she expressed her remorse in writing and confessed to what we wanted.

Hengaw has informed, after Ghazal Hajizadeh, Zeinab Jalalian's mother, published a video last year and she asked human rights organizations to pay attention to Zeinab's case, besides summoning and interrogating her old mother, two other relatives of her family were summoned and interrogated. They have been detained and interrogated for several days.

Zeinab Jalalian was arrested on Kamyaran-Kermanshah road in 2007 and sentenced to one year in prison by Branch 1 of the Kermanshah Revolutionary Court headed by Judge Moradi on charges of leaving the country illegally, and she was sentenced to death in December 2007 on cherges of moharebeh (fighting) through membership in the Kurdistan Free Life Party (PJAK). The death sentence of Zeinab Jalalian was approved by the Supreme Court in 2008. This sentence was pardoned in November 2011 and was commuted to life imprisonment with a reduction of one level.

It is worth mentioning that Zeinab Jalalian has suffered from diseases such as visual impairment, pterygium, and asthma due to her long imprisonment and harsh conditions in prison. She has suffered from severe shortness of breath after contracting the corona virus in Qarchak prison in Varamin.

During her detention, she was held in Kermanshah, Evin, Qarchak in Varamin, Kerman, and Khuy prisons, and she was illegally and suddenly deported from Kermanshah Central Prison to Yazd Central Prison on November, 2020.

Zeinab Jalalian is a Kurdish political prisoner, born in 1982 in Deim Gheshlaq village of Maku city, and has been in prison since 2008 without the right to leave.

Hengaw Human Rights Organization is calling for special attention to be paid to the situation of Zeinab Jalalian by international human rights institutions and organizations.