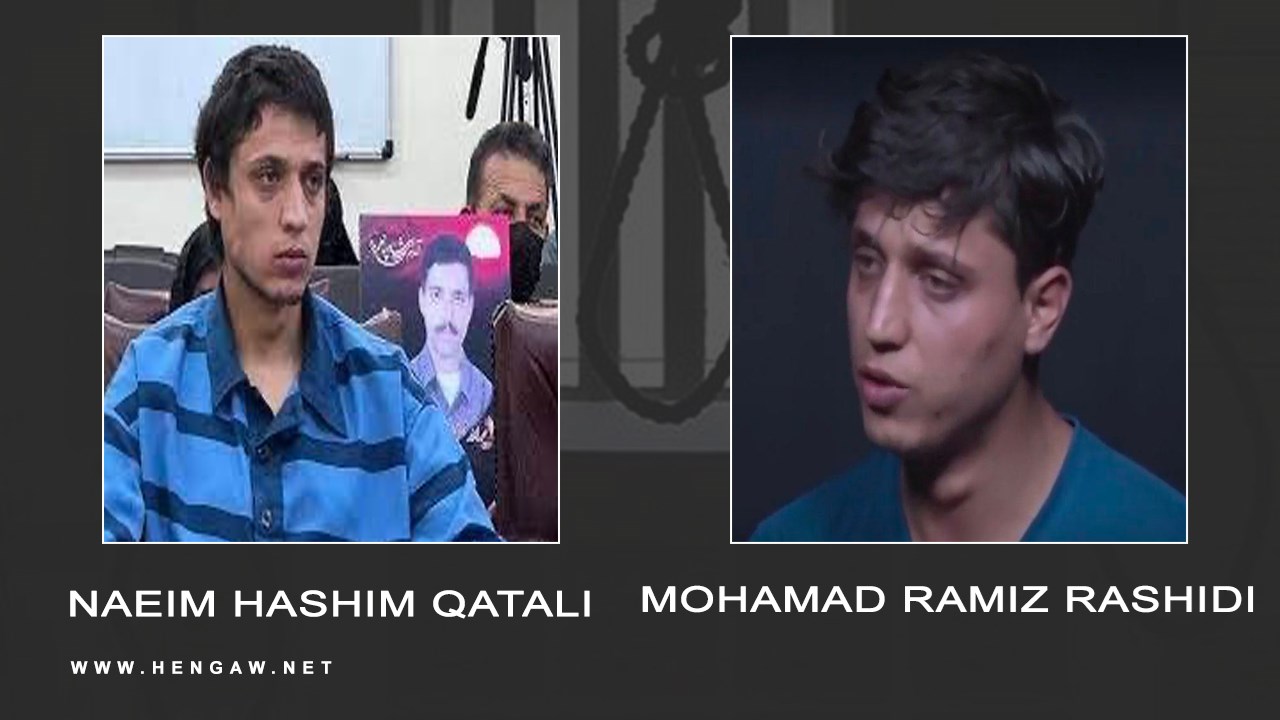 Hengaw: Wednesday, May 24, 2023

With the confirmation of the death sentence of Mohammad Ramez Rashidi and Seyed Naeem Hashemi Qatali in the Iranian Supreme Court, there is a possibility of their imminent execution. These two prisoners have been transferred to solitary confinement in recent days.
According to Hwngaw's information, on Wednesday, May 24, 2023, the death sentence of Mohammad Ramez Rashidi and Seyed Naeem Hashemi Qatali, the two defendants in the Shiraz "Shahcheragh" case, was confirmed by the Iranian Supreme Court.
This is even though a few days ago, the Chief of Justice of Fars Province accused these two Afghan citizens of "warfare, sedition, corruption on earth, and membership in a terrorist group" and announced their public execution on the Dey 9th Street of Shiraz shortly.
Earlier, he mentioned five citizens of "one of the neighboring countries" as the defendants in this case. According to Mousavi, the hearing of the charges against the defendants, in this case, has been held at the Iranian Islamic Revolutionary Court in Shiraz and Tehran.
This case is related to the armed conflict in Shahcheragh, Shiraz, in the middle of the recent nationwide protests, during which 13 people were killed and around 27 others were injured. The event that took place on October 26, 2022, which public opinion in Iran considered it "planned by the government" to distort the popular uprising.
After a short period after the so-called "Shahcheragh incident", the Iranian Interior Minister Ahmed Vahidi and spokesperson of the Islamic Republic of Iran Parliament Mohammad Baqer Qalibaf blamed the incident on the public protests. Such statements strengthened the hypothesis of government planning in carrying out this event.
The trial of Mohammad Ramez Rashidi and Seyed Naeem Hashemi Qatali, two Afghan nationals, started in February 2023. Based on the available information, the mentioned persons have been denied access to a minimum fair trial and effective defense rights.
While condemning these verdicts, Hengaw calls on the international community and human rights organizations to prevent their execution.
As a human rights organization, we state that Mohammad Ramez Rashidi and Seyed Naeem Hashemi did not have the right to an accused individual's defense in court . they did not have access to the consular authorities due to special circumstances in Afghanistan. Also, any international humanitarian organizations, such as the Red Cross, haven't visited them.