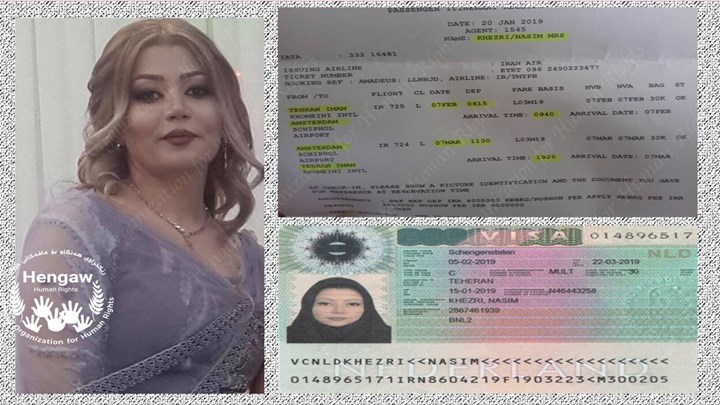 Hengaw: A girl from Sardasht had travelled to Amsterdam by a direct flight from Tehran, was arrested at the Amsterdam Airport and his fate unknown.

on Saturday, February 7, "Nasim Khezri", 33-year-old, after having travelled from Tehran to Amsterdam in Netherland, was arrested at the Amsterdam airport.

Navid Khezri, brother of Nasim told the Hengaw: "She has a Schengen visa and was scheduled to arrive at the Amsterdam airport at 10:00 am, on February 7, but that day, she was arrested by the airport police, and after being followed up by our family, it turned out that she was inside the Amsterdam airport".

However, after two days, the Amsterdam airport authorities declared that the name of Nasim was not in their system, and this is a matter of great concern for her family.

"We also contacted the police, asylum camps and the Dutch prisons, but we did not get a result and they told us that this person is not with us", Navid told.

According to the messages of Nasim's mobile phone with one of her family members and has been sent to Hengaw, "I can not go outside the airport and my mobile phone is not charging, it's cold here, and I haven't access to my luggage."

After a week, have not been any news about the fate of Nasim and her family has decided to make the news of the disappearance of the Nasim.

The Hengaw Organization for Human Rights calls on all relevant institutions and human rights organizations to take quick action to get to know the fate of Nasim Khezri.