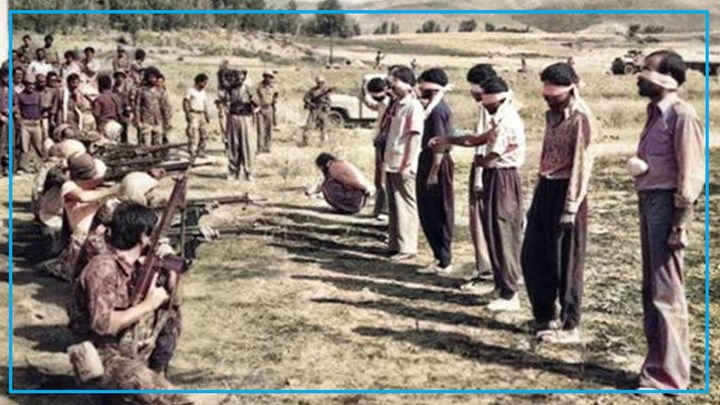 Hengaw: 41 years ago, a few months after Iran's revolution, the founder and first leader of the Islamic Republic of Iran Ayatollah Khomeini declared a Fatwa against the Kurdish people. As a result, the Kurds faced an expansive war and during the first few years, thousands of Kurdish people were hanged or shot dead.

The 18th of August is the day on which Ruhollah Khomeini, also known as Ayatollah Khomeini, proclaimed a fatwa authorizing the massacre of the Kurdish people. His order to the army was to march to Kurdistan with tanks, cannons and armed forces. Up to 10,000 people were killed, including 1,200 political prisoners. Years after this war and Khomeini's Fatwa, the killing of Kurdish people by the regime's armed forces has not stopped yet.

Hengaw Human Rights Organization has been reporting and registering human rights crimes against the kurdish population by the Islamic Republic of Iran since 2016.
According to the registered statistics, since 2016 until now at least 955 Kolbars (cross-border labor) were killed or injured by Iranian border guards in the border regions of Kurdistan (Iran-Irak-Turkey). 387 Kurdish citizens were executed by hanging, 133 civilians were killed or injured, 73 citizens died in the prisons and 197 others were killed or injured due to mine explosions in the border regions.