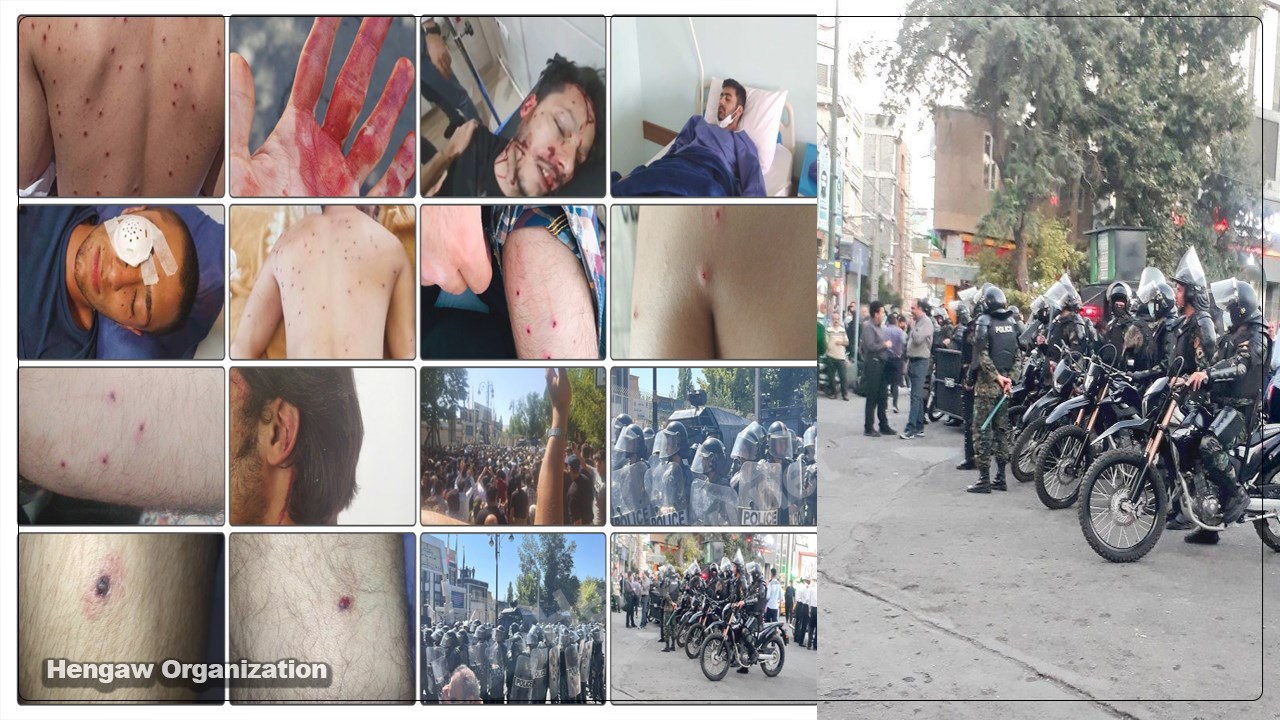 Hengaw: Sunday, September 18, 2022
The civil protests of the people in Saqqez and Sanandaj turned violent with the intervention of the security forces. According to the statistics of Hengaw, at least 38 people were injured in these two cities by direct fire and baton charges from the special forces, and 13 people were arrested.

During yesterday's protests in Saqqez, at least 33 people were injured by direct fire from special forces, 5 of whom were taken to Tabriz medical centers due to their deteriorating physical condition.
Parsa Sehat, 23, Nechirvan Maroufi,18, and Kian Derakhshan, along with two other people who were all injured in the eye, were taken to Tabriz medical centers due to their serious physical condition.
Hengaw sources have reported that 14 injured people in yesterday's protests in Saqqez are currently hospitalized in Shafa Hospital in this city, and despite being injured and hospitalized, the security agents put pressure on them and interrogated them. Also, the reports received by Hengaw indicate that the security institutions in Saqqez have threatened hospital personnel for reporting the situation and the number of injured people.

On the other hand, in last night's protests in Sanandaj, at least 5 citizens were injured, three of them were injured by shotguns, and 2 people, one of whom is a 14-year-old teenage girl, were injured by beatings and batons. They have been admitted to the hospital and their identities have been confirmed for Hengaw, but for security reasons and at the request of their families, we refrain from publishing their names.

In Saqqez, at least 8 citizens have been arrested by the security agencies, and five of them identified as Arian Majidzadeh, 17, Midia Rahimi, 17, Ahwan Houshmand, Kamyar Heydari, and Bahram Didar have been confirmed for Hengaw till now.

Hengaw has been informed that dozens of Kurdish civil activists in the cities of Sanandaj and Saqqez have been threatened with arrest on phone calls from the security agencies over the last two days and asked them not to participate in the protests related to the murder of Mahsa Amini and to avoid from publishing posts on social media related to this issue and also the general strike in the cities of Kurdistan.

With the call of Kurdish parties, a general strike is scheduled to be held in the cities of Kurdistan on Monday, September 19, as a sign of protest against the murder of Zhina Amini by Iranian security agencies.

It is worth mentioning that the security situation in the cities of Saqqez and Sanandaj is still unstable, and on Sunday, more than 70 people from the Revolutionary Guards, who are residents of Mahabad and Bukan, were sent to this city. Also, dozens of Special Unit forces of Baneh have been stationed in Saqqez Central Prison.

Last night, Hengaw announced the dispatch of 130 people from Kermanshah Special Unit forces to the cities of Sanandaj and Saqqez.

Hengaw has been informed that the number of injured and arrested in the two cities is more.

Hengaw publishes the latest situation of the two cities after proper investigations.