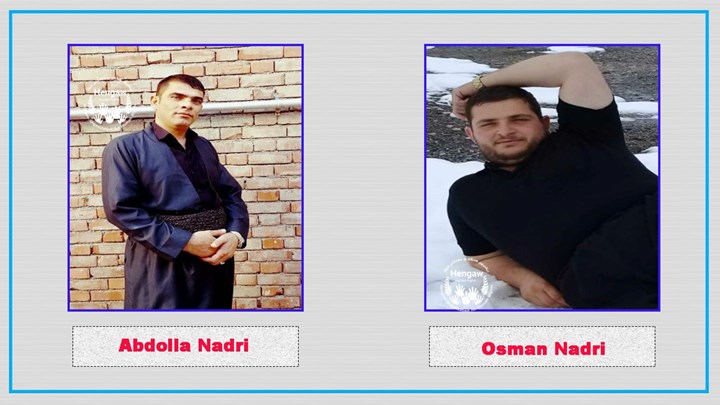 Hengaw : Yesterday, on February 24, 2021 , Iranian security forces in Piranshahr opened fire on a civilian car belonging to a Kurdish citizen, and killed 2 of its passengers who were brothers, and refused to hand over their corpses to their families .
According to a report received by Hengaw Human Rights Organization, at around 2:00 PM on Wednesday, February 24, 2021, Iranian security forces, Including the Iranian Intelligence forces and the Iranian Islamic Revolutionary Guards forces of Hamzeh military Base in Urmia, machine gunned a civilian truck a on Shinabad - Zidan road and killed Its two civilians passengers identified as Abdullah Naderi and Osman Naderi, who were brothers. .
According to an eyewitness, the Iranian security forces, who came from Urmia in three vehicles, opened fire on the truck before it stopped, and the 2 passengers lost their lives.
The Iranian security forces took the corpses of Osman and Abdullah with them and have not handed them over , despite the pursuit of their family.
Last night, dozens of members of Naderi's family gathered in front of the Piranshahr Intelligence Office and protested , but Osman and Abdullah's parents and several of their relatives were detained for several hours.
Iran's Ministry of Intelligence released a statement yesterday stating that a "terrorist" operation in Piranshahr had been foiled and that two people had been killed. These 2 brothers were called terrorists by the Iranian security agencies while they were civilians and residents of Piranshahr.