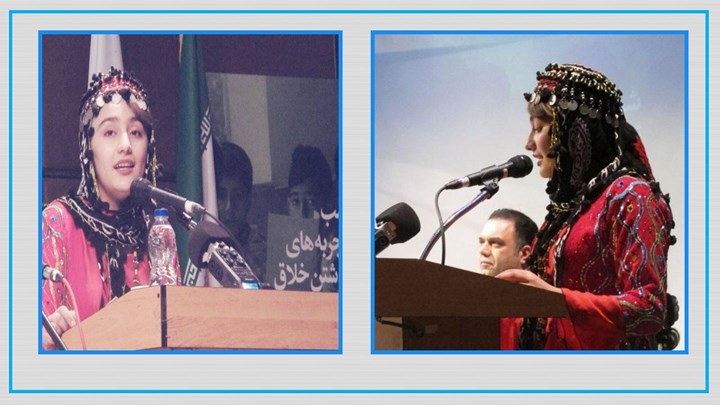 Hengaw: A young Kurdish poetess from Marivan district of Kurdistan province was illegally summoned and detained by Iranian intelligence services in the city .
According to a report received by Hengaw Human Rights Organization, on February 4 ,2021, Arezoo Mustafayi, a Kurdish poetess and writer with pseudonym of " Hansk"from Marivan, was summoned to Iranian Intelligence service Office in Marivan and subsequently detained .
According to an informed source, Iranian intelligence service had summoned this young Kurdish poetess on Wednesday, who refused to go to the intelligence service office . She was threatened on Thursday that she would be arrested if she did not surrender to the intelligence service office.
One of Mustafayi family's relatives confirmed this news and told the Hengaw : "Arezoo was detained on Thursday after visiting the intelligence service office and was released on Saturday, February 6, after three days by signing a commitment letter ."
The source, who did not want to be named for safety reasons, stated : "Arezoo was severely harassed and beaten by Iranian interrogators during her detention, so that bruises on her hands and face are still visible."
According to him, Arezoo Mustafayi was summoned and arrested after participating in programs on Kurdish TV channels such as "Kurdkanal", "Arian TV" and "Jin TV" and was released after they were promised that she would no longer appear on Kurdish TV channels and would no longer write poems with Kurdish nationalistic themes .
It is worth mentioning that three years ago, when Arezoo was in the second grade of high school, she was summoned by the Iranian Intelligence Office for composing a poem entitled "Vatan" ( Homeland ) and verbally promised not to write poems with these themes anymore .
Arezoo Mustafayi was born in Marivan in 2004 and writes poems and stories in Kurdish and Persian. She is also fluent in English and is currently studying in high school.
Her detention has been completely illegal and a violation of protectionist rights regarding the manner of summoning and interrogating children under the age of 18, even in accordance with the domestic laws of the Islamic Republic of Iran . Due to the young age and the lack of any legal mechanism from Iranian security forces in Kurdistan, they are responsible for any future detention or unexpected events.
This young Kurdish poetess was detained while in January 2021 , Iranian security forces in Baneh abducted a young Kurdish poetess identified as Taraneh Mohammadi and threatened to cut her tongue.