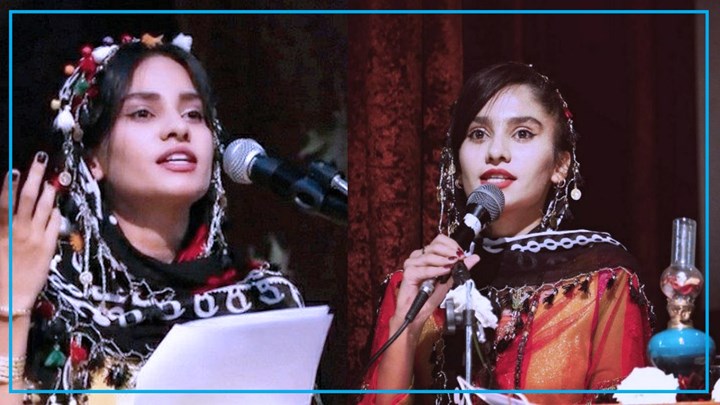 Hengaw : Last week, security forces of the Islamic Republic of Iran abducted young Female Kurdish poetess , Taraneh Mohammadi from Baneh District of Kurdistan Province.
According to a report received by Hengaw Human Rights Organization, on Monday last week (January 11, 2021), Iranian security forces in city of Baneh attempted to kidnap the young poet and writer
Identified as Taraneh Mohammadi, nicknamed "Tanya " (alone). She was taken out of the city and insulted and harassed, and even one of them, who spoke Persian, threatened to cut off her tongue.
A source close to Mohammadi's family, who did not want to be identified for security reasons, told Hengaw that Tanya has told her family that : " four people (the Iranian security forces) were in a white MVM car with smoked windows right in front our home and violently pulled a sack over my head. After taking a considerable car ride they took me out of the city and without saying any words and they started threatening and insulting me, after about two hours, they pulled the sack on my head again and abandoned me in one of the neighborhoods close to our home"
The source further stated that Tataneh Mohammadi had been threatened by phone calls with anonymous numbers during the past month and had been summoned and interrogated several times by the Iranian Intelligence and Police Department in Baneh .
The kidnapping and threatening of the young poet came after she said on a live Instagram stream with Hila Sediqi that , "I read a poem in a common language [Persian]" and in response to Hila Sediqi asked , "What do you mean by a common language? "This means that you do not consider yourself to belong to Iran, but to Kurdistan." She replied , "Yes, you are right. I consider myself to belong to Kurdistan."
She also has been on a live stream with prominent Kurdish singer , Najmadin Gholami .
Taraneh Mohammadi, 21, was born in Baneh and is currently a social work student at Mahabad University. She is fluent in Kurdish, Persian and English.
Taraneh started composing poetry at the age of 16 and is very popular among young people in Kurdistan. The content of her writings and poems is mainly about the national rights of the Kurds, Women's rights , children, and forced marriage.