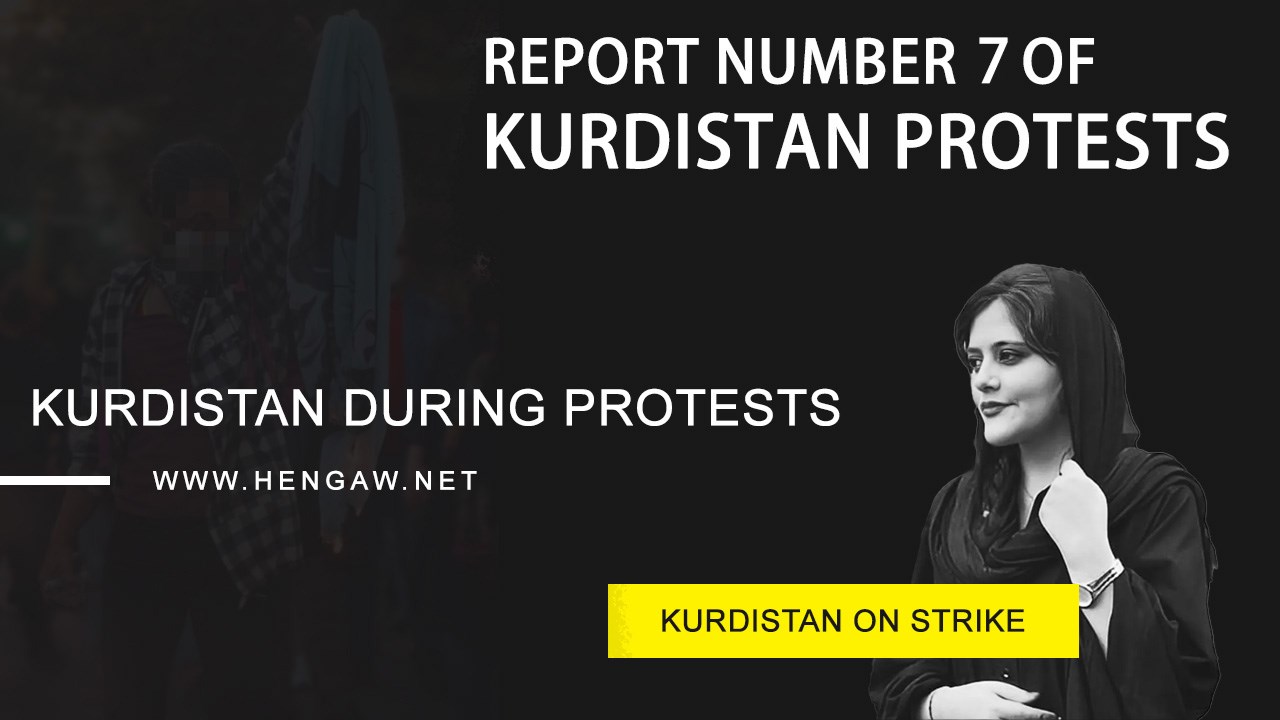 Hengaw: Saturday, September 26, 2022
During the last 4 days of protests in Kurdistan, at least 165 more Kurdish protesters were injured by direct fire from Islamic Republic of Iran forces, and dozens of citizens were arrested. With the identification of additional citizens killed in recent days, the number of people killed in Kurdistan protests has risen to 18.

The identities of Reza Shahparnia, 20, of Kermanshah and Amir Fuladi, 16, and Iman Mohammadi, both of Islamabad Gharb city, who were killed by the forces of the Islamic Republic of Iran, have been confirmed for Hengaw in the last days. Also, Abdulsalam Qaderglwan, who was injured during the protests against the state-kill of Zhina Amini, passed away due to the severity of his injuries, in a hospital in Urmia, on Monday morning, September 26, 2022.

Cities where protesters have been shot and killed:
Urmia: Farjad darwishi, Abdulla Mahammadpour, Dansh Rahnima, and Abdulsalam Qaderglwan.
Oshnovieh- Urmia province: Amin Marafat (16 years old), Milan Haqiqi, and Sadraldin Litani.
Diwandara: Foad Qadimi and Mohsen Mohammadi
Saqqez: Faridoun Mahmoudi
Kermashan: Mino Majidi, and Reza Shahparnia
West Islamabad: Saeid Mohammadi, Amir Fuladi, and Iman Mohammadi
Ilam: Mohsen Qaisari
Dehgolan: Reza Lotfi
Piranshahr: Zekaria Khial

In the last 4 days, at least nine Kurdish cities, including Ilam, Urmia, Oshnovieh, Piranshahr, Sanandaj, Qorveh, Sardasht, Bokan, and Mahabad, saw protests over the state-kill of Zhina Amini 22-year-old Kurdish girl. These protests turned violent after the government's intervention, injuring at least 165 people.

Cities where protests have devolved into violence in the last 4 days:
Urmia: 20 injured
Oshnovieh: 24 injured
Ilam: 7 injured
Piranshahr: 25 injured
Bokan: 17 injured
Qorveh: 8 injured
Sanandej: 35 injured
Sardasht: 13 injured
Mahabad: 16 injured
In total: 165 injured
Statistics for the last 9 days in general:
Over the previous nine days, 898 individuals have been injured during the protests, many of whom have avoided medical facilities out of fear of being detained by security forces, and 18 Kurdish protesting citizens have died as a result of direct government force firing.

Hengaw has access to their images and videos, some of which have been shared on Hengaw's social media platforms.
Statistics on people killed and injured by cities in the last nine days in Kurdistan
Sanandej Province: 9 cities
Diwandareh: 2 killed and 33 injured, Saqqez: 1 killed and 74 injured, Baneh: 40 injured, Sanandej: 136 injured, Mariwan: 9 injured, Dehgolan: 1 killed and 16 injured, Bijar: 17 injured, Qorveh: 40 injured, and Kamyaran: 11 injured.

West Azarbaijan Province (Urmia): 9 cities
Oshnovieh: 4 killed and 67 injured, Urmia: 3 killed and 80 injured, Piranshahr: 1 killed and 96 injured, Mahabad: 30 injured, Bokan: 51 injured, Tekab: 7 injured, Maku: 6 injured, Naghadeh: 18 injured, and Sardasht: 29 injured.
Kermanshah Province: 2 cities
Kermanshah: 2 killed and 47 injured, and West Islamabad: 3 killed and 40 injured
Ilam Province: 3 cities
Ilam: 1 killed and 34 injured, Ivangharb: 11 injured, and Abdanan: 6 injured

In total: 18 killed and 898 injured
Over 1000 Kurdish protesters have been arrested in the last ten days:

Over the past ten days, the security forces have detained more than 1000 Kurdish citizens, according to statistics recorded in the Statistics and Documents Center of the Hengaw Organization for Human Rights. The identities of more than 300 of these people have been confirmed for Hengaw, including 44 women rights activists, and 19 minors.
Hengaw has been notified that more than 200 detained individuals from Sanandaj have been moved to this city's central prison and that the youth ward of Urmia's central prison has been evacuated to make room for the most recent detainees due to the overcrowding of all detention facilities.
Hengaw estimates the number of killed, injured, and detained is higher than these statistics.