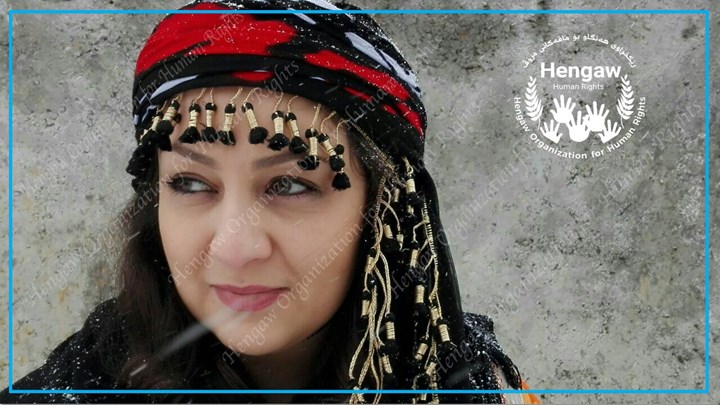 Hengaw: Mojgan Kavoosi, a Kurdish writer and researcher who was sentenced to 76 months and 15 days of imprisonment, has been arrested to serve her imprisonment.

According to a report received by Hengaw, this Kurdish writer and researcher was arrested on May 19 and has been transferred to the prison. Kavoosi is from Kelardasht and lives in Noshahr. Kavoosi's lawyer, Mostafa Neili, has claimed that "the law enforcement in Noshahr has acted against the article 500 of the penal law by issuing the arrest warrant without a subpoena."

Mojgan Kavoosi was previously arrested by the security forces of the Noshahr intelligence office (Etela'at) on Nov. 18, 2019, and was released after a month on a 100 million Toman bail. While Kavoosi had been sentenced to 69 months of imprisonment in November 2019, her case deteriorated as the court decision changed to 76 months and 15 days of imprisonment after a review session regarding her case was held in February 2019.

According to the court decision, Mojgan Kavoosi has been sentenced to 33 months, 36 months, and 7 and a half months of imprisonment for "membership in the Democratic Party of Iranian Kurdistan", "deceiving the public in order to commit public disturbance", and "propagating against the system", respectively. According to the case consolidation, the severe punishment which means the 36 months imprisonment is applicable.

Kavoosi has published several articles on the Kurdish language and produced a short documentary called "Hiwa" in 2017. Her documentary is about the concerns around the extinction of the Kurdish language among the Kurds of Kelardasht. Furthermore, she has translated Arif Qurbani's book named "Anfal and the story of Teymour" into Persian. This book is about the Anfal campaign against the Kurds in Iraq and the story of a survivor who has lost all of his family members during the Anfal campaign.