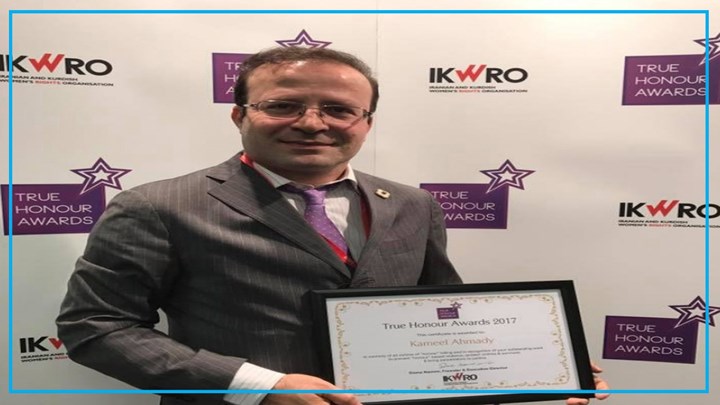 Hengaw : Kamil Ahmadi, a Kurdish researcher and British citizen who was detained by Iranian security forces in August last year, has been sentenced to prison by the judiciary of the Islamic Republic of Iran.
According to a report received by Hengaw Human Rights Organization, Kamil Ahmadi, a Kurdish writer and researcher, has recently been sentenced to 8 years in prison by 15th Branch of the Iranian Islamic Revolutionary Court of Tehran on charges of "collaborating with the Hostile government( USA) ".
Amir Raeesiyan , Kamil Ahmadi's lawyer, confirmed this news in a tweet, and Kamil Ahmadi wrote in a post on his Facebook page: " the main judicial point of accusations against my research is about the most damaging traditions against the children in the least privileged regions but the main goal is to accuse my researches' relation with the cultural influence of 2030 document and halting my activities and researches regarding minorities "
Kamil Ahmadi was detained by the Iranian government's security forces in Tehran on Sunday, August 11, 2019 And was temporarily released on 500 million Toman ($2000) bail after 100 days of detention.
He was detained for a month in solitary confinement in Ward 2A of Evin Detention Center and was denied access to a lawyer during his detention.
Kamil Ahmadi is a native of Naqadeh, West Azerbaijan (Urmia) Province in Iranian , and a British citizen who has done research in social fields such as Female Gentile Mutilation and child marriage .
This Kurdish researcher won the IKWRO Annual Award in 2017 . The IKWRO Prize is awarded annually to researchers, writers and activists in the field of honor violence.
Kamil Ahmadi won the World Peace Foundation's Literature and Humanities Award at George Washington University two years ago for his research and work on social harms with an emphasis on "gender," "children," and "minorities."