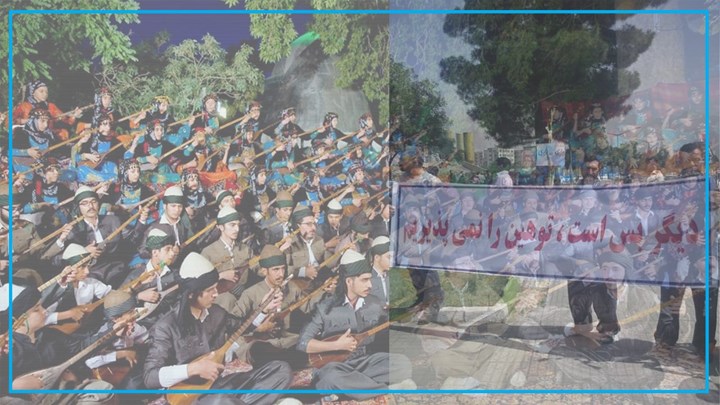 Hengaw : A Kurdish citizen of Yarsani religious community in Saveh district of Markazi province in Iran has been detained and desecrated by the order of Iranian the prosecutor of this city, so that he tried to commit suicide.
According to a report received by Hengaw Human Rights Organization, on Tuesday, January 12, 2021, a Kurdish citizen of the Yarsanis religious community , identified as Javad Ahmadi, a native of Kermanshah in Iranian Kurdistan and a resident of Saveh, who was charged with selling stolen property has been detained by the order of the investigator of First Branch of the Public and Iranian Islamic Revolutionary court in Saveh.
According to an informed source, when investigator Abbas Zein al-Abedin found out that Mr. Ahmadi was a Kurdish citizen and a follower of the Yarsan religion, ordered the arrest of Mr. Ahmadi and his introduction to prison while humiliating the defendant at the court despite the denial from the buyer and seller of the stolen property about mr. Ahmadi's interference.
The source further stated that the interrogator in the presence of other people said that he had ordered shaving Mr. Ahmadi's mustachios ( Shareb) because he was aware that mustachios are sacred in Yarsanism .
One of the Yarsani activists also told Hengaw's correspondent that Mr . Ahmedi was temporarily released on bail on Wednesday after shaving his mustachios while being beaten by Iranian officials in Saveh prison.
The source also stated that Mr. Ahmadi had desperately asked the prison authorities to stop shaving his mustachios , because it was obligatory for male followers of Yarsanism to have mustachios . However, his mustachios were shaved and now he is in an unstable state of mind and has tried to commit suicide, which his relatives have been able to prevent him from doing that.
Having the "Moor" mustachios is obligatory on Yarsani men. In Yarsanism belief, having the "Moore" mustachios is the key to entering the Jam and Jamkhaneh. The "Jamkhaneh" is a place of worship for Yarsanis .
It is worth mentioning that summer 2013, after the officers of Hamadan Prison set fire to the mustache of one of the followers of the Yarsan religion, several citizens of Yarsani set themselves on fire in front of the Hamadan Governor's Office and the Parliament building in Tehran. Among them, Hassan Razavi, Nikmard Taheri and Mohammad Ghanbari lost their lives.
Iranian government is obliged to observe the freedom and sacred symbols of different religions according to the Covenant of Civil and Political Rights, which has been officially joined, but since the establishment of the Islamic Republic of Iran it has always denied and violated the religious and ethnic identity of Yarsan religion followers.