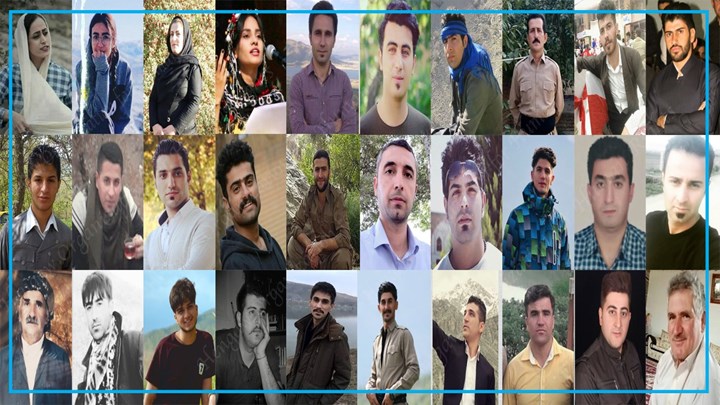 Hengaw : The wave of mass detention of Kurdish citizens continues in different cities of Kurdistan, and yesterday at least 10 citizens have been detained in the cities of Piranshahr, Bukan and Kalatarzan.
According to a report received by Hengaw Human Rights Organization, on Tuesday, January 19, 2021, Iranian Intelligence forces in Piranshahr simultaneously arrested 3 Kurdish citizens, identified as Rasoul Lavazeh, a resident of Piranshahr, and Karim Khalifani and Hesamuddin Khezri from the village of "Kani Bodaq " and transferred them to an unknown location.
At the same time, Iranian intelligence forces in Naghadeh arrested and beat a citizen identified as "Rahman Daryazi (Ebrahimi)" in the village of Pasveh near Piranshahr.
On the same day, Iranian intelligence forces in Bukan raided the home of a Kurdish citizen identified as Qader Rasoulpour in the village of Alikand and detained him. On evening of the same an other citizen from Bukan identified as "Mohammad Haji Rasulpour" was detained at his workplace.
According to an informed source, while detaining Mohammad Haji Rasoulpour, the Iranian intelligence forces confiscated his personal belongings, such as mobile phone , Laptop, and even his CCTV camera.
Also at the same time , another citizen from Bukan , identified as Ali Zulfi, was detained.
Reports from Bukan indicate that several other citizens have been detained, but their identities have not yet been clarified .
In Kalatarzan region of Sanandaj, Iranian intelligence forces raided the village of Danikesh and detained at least 3 citizens, identified as Omid Salimi, Rahim Salimi and Aso Mohammadi.
As of preparation of this report , the reason or reasons for the arrest of the eight citizens or the charges against them are not clear as well as their whereabouts are still unknown .
According to statistics recorded by the Statistics and Documentation Data Center of Hengaw Human Rights Organization, at least 42 Kurdish citizens have been detained by Iranian security forces from January 11 to January 20 (11 days), 3 of whom were released and 39 are still in custody.
The verified identities of these 44 people are as follows;
Mahabad:
1- Darya Talabani
2- Shapul Khezri
3- Soran Hosseinzadeh
4- Salar Rahavi
5- Afshin Mammadi
6- Sirvan Nouri
7- Iman Abdi
8- Farzad Samani ( detained in Karaj)
9-Soran Mohammadi
10-Amir Bayazidi Azar
11- Asrin Mohammadi (detained in Tehran)
Marivan:
1- Zanyar Motamedi
2- Karvan Minuyi
3- Dana Samadi
4- Sirvan Karimzadeh
5- Jabbar Piroozi
6- Karo Alidad (released)
7- Sahib Badrouj (detained in Karaj)
8- Adel Parvazeh
9- Faramarz (detained in Tehran)
Bukan:
1- Azimeh Naseri
2- Hossein Gardashi
3- Mohammad Haji Rasoulpour
4- Qader Rasoulpour
5- Alî Zulfi
Naghadeh
: 1- Abdullah Haji Ahmadi
2- Peyman Haji Ahmadi
3- Galavij Abdullahi
4- Rahman Daryazi (Ebrahimi)
Sarvabad:
1- Salman Advaei (released)
2- Siamak Advaei
3- Akram Adavaei
4- Fardin Adavaei
Piranshahr:
1- Karim Khezri
2- Hesamuddin Khezri
3- Rasoul Lavazeh
Kalatarzan:
1- Omid Salimi
2- Rahim Salimi
3- Aso Mohammadi
Rabat:
1- Bahman Yousefzadeh
2- Fereydoun Musapour
3- Farhad Musapour
Sanandaj:
1- Aram Yousefi
Baneh:
1- Taraneh Mohammadi (released)