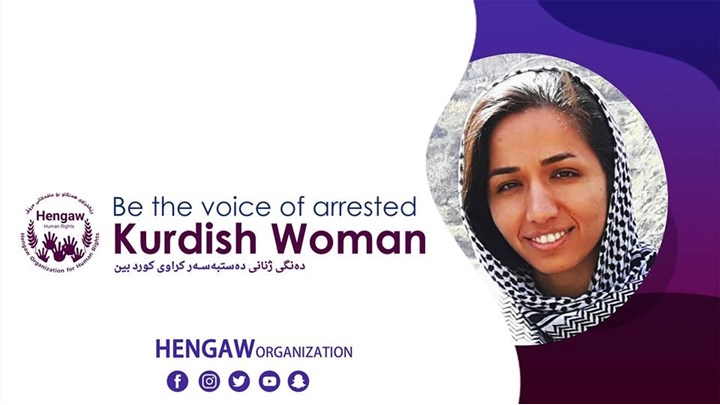 Hengaw: The Kurdish activist Zara Mohamadi has been sentenced to ten years in prison by the Iranian judiciary.

Zara Mohamadi, board member of the Kurdish NGO Nojin, was sentenced to ten years in prison. The NGO Nojin has been campaigning for civil, social and cultural rights of the Kurdish population in Sanandaj (Kordistan Province) for seven years. The 28-year-old activist has also been giving Kurdish classes on a voluntary basis in Sanandaj and in the surrounding villages for ten years.

On May 23, 2019, Zara Mohamadi was arrested by Etlaat forces (Iranian Secret Service) in her hometown of Sanandaj. The Etlaat accused the young woman of working with a Kurdish opposition party. At the same time, Rebwar Minberi and Idris Minberi, two other members of the NGO Nojin, were arrested. On December 2, 2019, half a year after the detention, Zara Mohamadi was released on bail of 700 million Toman pending trial.

On July 14, 2020, Zara Mohamadi received through her lawyer Dr. Abdullahi the news of her ten-year prison sentence. The verdict was imposed by the 1st branch of the Revolutionary Court in Sanandaj on charges that Zara Mohamadi had founded an anti-state group. Apart from the cultural organization Nojin, in whose organization Zara Mohamadi was involved seven years ago and in which she is active as a board member, there are no other organizations or groups that can be associated with Zara Mohamadi.

Zara Mohamadi was treated unfairly in detention. On September 18, 2019, she was brought before the Revolutionary Court in Sanandaj without legal assistance. A relative of Zara told Hengaw that she had been brought before the judge without her lawyer and family being informed. It is common for court trials in Iran, especially those before the revolutionary courts, to be extremely unfair. Members of ethnic minorities are treated particularly unfairly and prosecuted for vaguely worded charges.