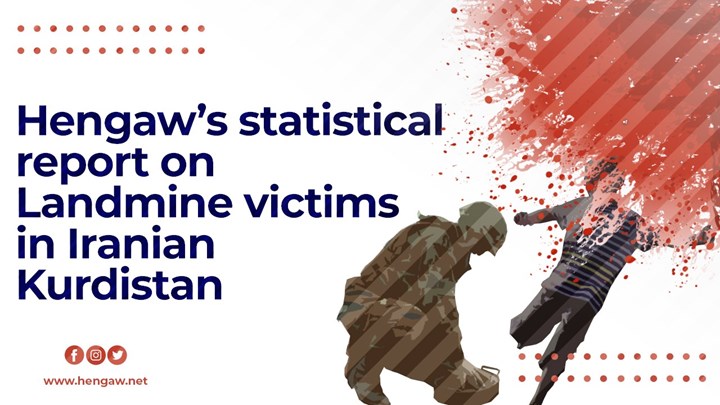 Hengaw : On April 4 , the " International Day for landmine Awareness and Assistance in landmine Action " , Hengaw Human Rights Organization publishes a statistical report on landmine victims over the past year in order to shed light on the lands polluted with landmines in Iranian Kurdistan.
According to statistics recorded by Hengaw Human Rights Organization's Statistics and Documentation Data Center, From April 2020 to April 2021, at least 38 civilians were killed and injured on the borders of Iranian Kurdistan by landmines and explosives left over from the 8-year Iran-Iraq war,
According to the report, 10 civilians were killed and 28 others were injured or amputated during this period. These statistic has increased by 11 cases (29%) compared to the previous year which 4 citizens lost their lives and 23 other injured.
There were also a child and a woman among the victims of last year, both of whom were injured.
Separation of victims by province:
During this period , most of the landmine victims were registered in the border areas of Kermanshah province, with 11 cases.
Kurdistan Province (Sanandaj): 8 victims (2 killed and 6 injured) equivalent to 21% of total cases.
Ilam province: 10 victims (6 killed and 4 injured) equivalent to 26% of total cases.
West Azerbaijan Province (Urmia): 9 victims (2 killed and 7 injured) equivalent to 24% of total cases.
Kermanshah province: 11 victims (11 injured) equivalent to 29% of total cases.
Separation of landmine victims by social class:
Most of the landmine victims in Iranian Kurdistan were from the working class, which during this period 20 Kolbars, drivers, shepherds and workers were killed.
Workers: 20 cases (6 killed and 14 injured)
Military: 13 cases (4 killed and 9 wounded)
Ordinary citizens: 5 cases (5 injured)
International humanitarian law and disarmament law define anti-personnel mines as prohibited weapons. In contrast, landmines are not considered as absolute prohibitions, and restrictions to minimize their effects are largely subjected to customary law in international law. For example, the sides of the conflict must maintain a map of minefields or clear these fields after ceasefire to support civilians.
The 1997 Ottawa Convention obliges governments to refrain from producing and stockpiling anti-personnel mines, which unfortunately the Government of the Islamic Republic of Iran has not yet acceded to despite the presence of landmine victims.
Faraz Firoozi, an international humanitarian law expert and Hengaw's legal adviser, states that the Iranian government has not acceded to this international convention:
"Regarding the reasons for Iran's refusal to access to the Ottawa Convention, special attention should be paid to the border disputes between Iran and Iraq. The Iranian government has always refused to accept international obligations in this regard, justifying border protection. And the lack of demarcation of the border at significant distances from the western regions of Iran (between Iranian Kurdistan and the Iraqi Kurdistan Region ), following the conclusion of the Algerian-Baghdad peace agreement between the Iranian and Iraqi governments in 1975, which The Joint Commission on Border Negotiations should be set up, to which no action has been taken so far, according to which the Government of the Islamic Republic considers the minefields located in these areas as part of its defense doctrine and is willing to accept international commitments to clear them. "
"What has raised concerns about the landmines in recent years is not only the unwillingness of the Iranian government to clear minefields, but also the production of mines with various land and sea uses by.
For example, in some areas, the Iranian Islamic Revolutionary Guards Corps ( IRGC) have used a type of mine called "Saegeh "and "Sayad" , which is planted on the ground and acts as a cluster as soon as it explodes, leaving hundreds of fragments uncontrolled and even ascending to a height of 500 meters. Such explosive weapons are essentially prohibited weapons in humanitarian law. Iran's military industry has also started the production of marine mines with high destructive effects, which in addition to risks to maritime safety, include harmful environmental effects." Firoozi added
Various statistics estimate the number of land mines planted in five provinces bordering Iraqi , including West Azerbaijan (Urmia), Kurdistan (Sanandaj), Kermanshah (Kermashan), Ilam and Khuzestan, from 16 to more than 20 million, covering an area of ​​about 4.2 million hectares. Most of these mines have been planted in Iranian Kurdistan region and there are, on average, two mines per Kurdish citizen.
In addition to existing land mines (Iran-Iraq war), Hengaw's research has shown that the Iranian government has planted new landmines in the border areas over the past few years under the pretext of confronting Kurdish opposition parties.
The growing number of landmine victims in the provinces of Kurdistan and West Azerbaijan is one of the effects of this security policy. For example, in the border areas of Chaldoran district in West Azerbaijan province (Urmia) , which does not share a border with Iraq, a citizen has been injured by a landmine.
For downloading the names list PDF click here