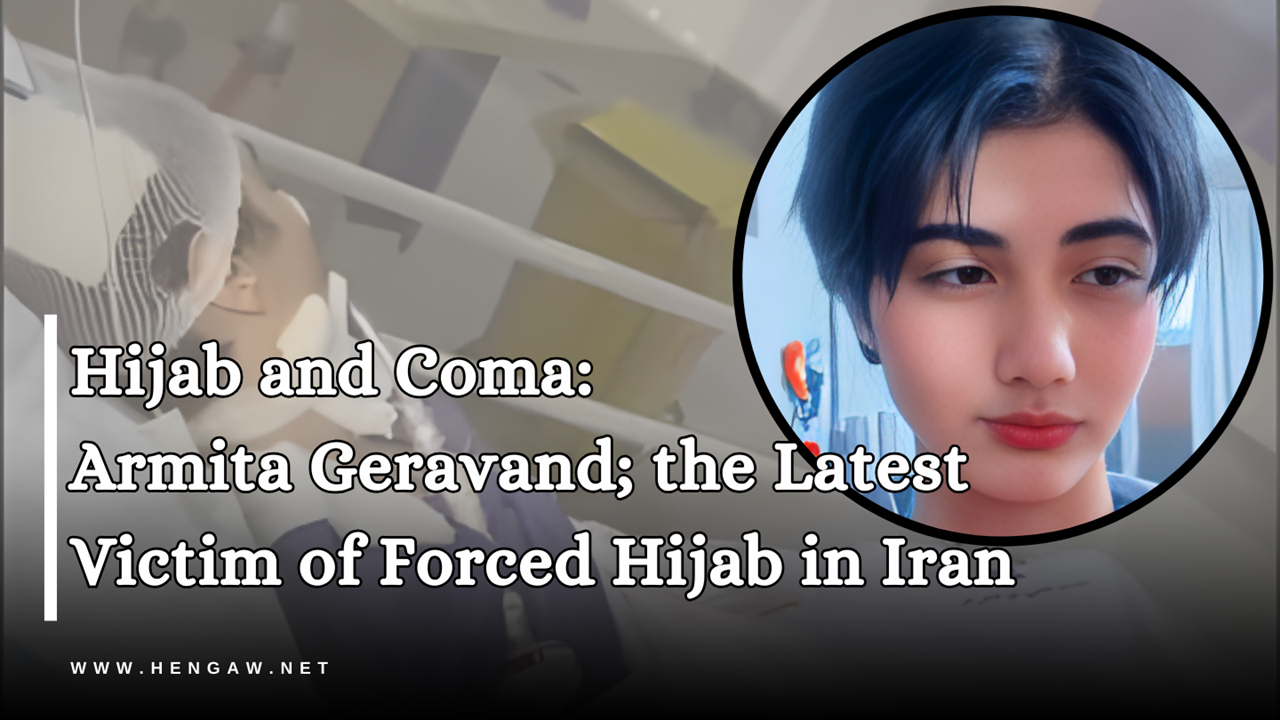 The brutal practice of forced hijab by the Iranian morality police has resulted in another tragic case of violence against a young woman. 16-year-old Armita Garavand has been in a coma since October1St, 2023, after being viciously attacked by the Morality police officers in the Tehran Metro. She is currently under strict security surveillance at "Fajr" Air-Force Hospital. Hengaw organization for Human Rights reported that Armita Garavand was physically assaulted by the agents at "Shohada" station of the Tehran Metro on the morning of October 1st, 2023, for purportedly breaching the obligatory "hijab" law and is now hospitalized due to severe traumatic brain injury.

Forced Hijab in Iran: A Manifestation of Gender Apartheid
In Iran, the state imposes a legal obligation on women to wear hijab. This law, which is enforced by the Iranian regime, violates the rights and freedoms of women and contradicts the principles of international human rights law. Iran is the only country in the world that has ratified such a law, which the government claims to be based on Sharia law. However, this has been challenged by many Islamic scholars who have different interpretations and opinions on the issue of hijab. The compulsory hijab law in Iran is not a religious mandate, but a political tool that the regime uses to oppress and control women. The regime has imposed harsh penalties for those who disobey the law, such as imprisonment and fines. Moreover, the law is vague and arbitrary, as there is no clear legal definition of what constitutes hijab, or what are the duties and responsibilities of the morality police who are in charge of enforcing it. The morality police, also known as Gashte-e-Ershad, is a branch of the Iranian police forces that patrol the streets and harass women who do not wear full hijab in public. They often arrest women and take them to a police van and then to a training workshop where they are coerced to sign a pledge not to violate the hijab code again, and to attend police-organised guidance sessions to learn how they should adhere to Islamic values. These are humiliating and degrading practices for women and a clear-cut violation of their dignity and autonomy which has turned into a form of gender apartheid.

The Hijab Law and the Woman Life Freedom Movement in Iran
In a tragic incident last year, on September 16th, 2022, Jina Amini, a Kurdish woman from Saqqez-Kurdistan, who had travelled to Tehran with her family for holidays, was stopped by the morality police in front of a subway station (Shahid Haqqani) and accused of improper hijab. She was then dragged into the police van. After a few hours at Vozara detention centre, Jina Amini's unconscious body was transferred to hospital where she died three days later. The death of Jina Amini triggered a burst of fury and a protest movement led by women who chanted "Women, Life, Freedom". This slogan has since echoed across Iran. The security forces intervened and turned the peaceful protests of people in Saqqez and other cities across Iran into violent clashes. The protests spread across the country and evolved from being focused on women's rights to demanding the overthrow of the entire Iranian regime. They faced severe crackdowns and frequent internet blackouts by Iranian authorities, as well as thousands of arrests and several executions. A year after the brutal suppression, the Iranian regime has failed to deliver truth, justice and reparations to her family, or to families of other victims, women, girls and all protesters who have suffered violations of fundamental human rights. Instead, the Islamic regime is escalating its repression and reprisals against its citizens, seeking to introduce new and more draconian laws aimed to restrict further the rights of women and girls. This can be seen by the approval of "chastity and hijab" bill by the Iranian Parliament, awaiting confirmation by The Guardian Council – which would expose women and girls to increased risks of violence and arbitrary detention.
From Mahsa to Armita: What We Know About Her Health Condition
Armita Geravand has been comatose since October 1, 2023, after being brutally attacked by the morality police officers. She was transferred to Fajr Hospital, a military facility under the control of the Iranian armed forces, where she is being held under strict security measures. The hospital has denied access to any media or journalists, and the Iranian intelligence forces have surrounded the hospital with multiple layers of security. No one is allowed to visit Armita, not even her own family. A reporter who tried to investigate the case at the hospital was arrested by the security forces and later released after the news of her detention was made public.
The incident of Armita's assault has sparked outrage and sympathy among the Iranian people and beyond, as her situation has gone viral on social media. However, all state-affiliated media outlets have systematically rejected any evidence of violence against Armita, and government officials have maintained that there was no physical confrontation between her and the morality police officers. They have based their claims on a short and cropped video that shows only an external view of the train. Furthermore, state-run media, quoting Tehran Metro authorities, have asserted that Armita fainted due to low blood pressure. These claims have raised public suspicions and concerns about the possibility of a cover-up and a repetition of the previous case of Jina-Mahsa Amini.
According to the latest news, Shahin Ahmadi, Armita's mother, was arrested by the security forces on Wednesday evening, October 4, 2023, near the hospital where her daughter is hospitalized. The Iranian judiciary has denied this report and accused unidentified enemies of spreading rumours about Armita's condition. At the moment, there is no reliable information available about Armita's current health status or her mother's legal situation. The Iranian people, both inside and outside the country, are following the news of Amrita's fate with anxiety and anger. The future is uncertain and unpredictable, but the truth is that Armita has been the latest victim of serial brain traumatic injury due to hijab laws and not the last due to the brutal practice of the Iranian Regime.
Faraz Firouzi Mandomi
Human Rights Lawyer and Legal Advisor of Hengaw